So, another Sydney derby and another marred end in the away (RBB) end which unsurprisingly had NSW Police heavily involved in it.
Let me start off by saying that I wasn't there as I was unable to attend, however having been to over 80% of derbies at Allianz, I have been witness to this sort of overzealous policing and going off of people's eyewitness accounts am inclined to side on those reporting who were there.
Operation SELFIE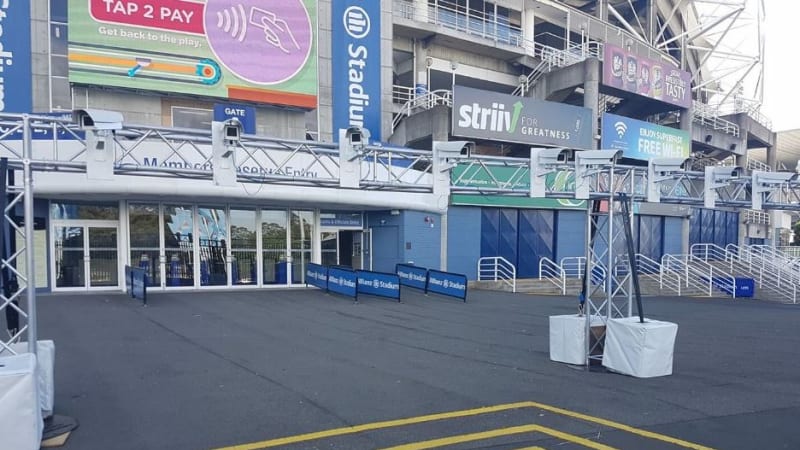 Starting with a row of camera's in front of the stadium upon entry, you'd think you were walking into a prison of sorts. Overkill. We've been told over and over again by authorities "if you haven't done anything wrong, you have nothing to worry about", which has become pink noise and meaningless. They could (and have done so with our members), pin you for anything and as we've become accustomed to by the glorious FFA they won't show you what evidence they possess. I wonder what they're doing with all the images and videos recorded…
Blowing Smoke
Let's also address the elephant in the room; the all-terrifying and deadly flare.
Yes, there was one lit after Riera's opener. I'm also seeing people say there was a second, whatever, there was at least one flare. Did anyone get injured from this? Was there anyone who feared for their life? If there was, I would like to know.
That being said, there seemed to be nothing to fuss over and it was over as quickly as it was lit. You want that passionate atmosphere at a Sunday night rain-clogged Sydney Derby in the A-League? This sure as hell does help.
Walk This Way (Talk This Way)
There was a big stink over some apparel from the RBB, which I personally have no issue with.
I want one
People are up in arms over this, saying things like it's provoking and bringing attention to yourself. I see this as a way of making your 'voice' heard, since the FFA overlords have stopped any form of messages towards or against by taking banners from fans in the last few weeks.
A headline from some scrap publication I saw read "Rowdy Western Sydney fans let off flares in Sydney FC game". As mentioned above, nothing happened apart from singing and jumping with desire and passion, which is what the RBB is known for and what other active groups were known for.
The FFA have shown that they are useless even with FIFA visiting, so why not show that in the stands?
Hats Off To You
We've had previous instances where opposition fans have walked into our bay and ended up attacking one of our own (Melbourne Heart away around 2013-2014 I believe). Credit where credits due, the cops for once actually did something useful and took this clown out.
No one cares about your hat, mate.
🙈🙈🙈

Two football fans were ejected from the Sydney derby for approaching the Western Sydney Wanderers away end and refusing to leave. pic.twitter.com/52qjT9PDld

— Goal Australia (@GoalAustralia) February 26, 2018
My hat!
To Serve & Protect Us?
Police starting a fight it seems #SydneyDerby pic.twitter.com/24YmQ6cXsO

— Daniel Carr (@danieljcarrr) February 25, 2018
What really annoys and angers the f*** out of me is what you see in the video above. Police, riot police at that, going hell for leather 3-on-1 looking to take down and subdue a Wanderers fan or any A-League fan for that matter, whilst also starring at you in a row outside and inside the stadium to intimidate you which is what my experience has been in the last six years anyway. This is why A-League fans do not like police at A-League matches. Again, I wasn't there and I;m not stating this happened, but this just has shades of every other experience I have with police at games where they instigate by pushing through the fans forcefully and naturally people take exception to being pushed. All it takes is one fan to say something like "take it easy" for them (police) to start being really forceful.
People I know copped pepper spray from the surrounding area trying to get family and friends out of the way where this happened and they're still feeling the effects today.
Would you feel like going back to a game from your choice of sport if all you saw were tens of riot cops, perhaps with hands on holsters all starring at you because you're a fan of a certain club or sport? F*** no.
Fanless Football Association
Over the years for numerous reasons fans of all clubs, Wanderers and Victory heavy, have been banned for various incidents. Some received stadium bans, some 5 or 10 year A-League bans etc. Some justified, others for incidents as clear as mud and some for stupid things all together (standing near a flare back in 2012). Seeing people call for more bans does what? Sure, you can remove people who are culpable of Fix the issue, or reduce more fans from the clubs and A-League thus dwindling even further the already low numbers? If there is a justification to ban someone for violence or assault then fair play, do it, but these bans from what really is nothing doesn't fix anything, not to mention the state sport in this country at the moment. They (FFA) have banned all the fans who actually gave a s*** about their respective teams and the league.
I've mentioned how disinterested I have been this season in other rants and podcasts and most likely many others share my same view. What used to be a 40K to 60K spectacle is now a 15-20K game with empty bays, the Melbourne Derby is well below par and every other average attendance for a home game is plain s***. Fans are telling you that they don't like what's on offer and yes, I know we follow the teams and I will support the team no matter, but there is a breaking point to which the average fan says "yeah, I'm over the same stale product" and they tune out and watch European and/or South American leagues instead.
The FFA live in an echo-chamber and love a good self pat on the back, neglecting what the actual fans who pay memberships and go to games week in/week out have to say about the game they love in this country run by brainless tools.